So yeah I havent been on lj for ages, but it is an easier way to write up and post large passages of fangirling..so here goes!

Im just gonna jump right in to it.
First thing was Michael's photo op, whicjh was at 1220 on the Friday, an awesome way to officially start the con.
So myself
tasabian
fruitbat00 and
complicat made our way down to where Michaels photo ops were being done..I cannot describe how much of a task it is to weave your way through these huge hotels..it is an effort and a half I tell ya!
So the room wasnt that busy say 50 people, which I find shocking and nice at the same time, less people means more time. We were all sitting on the floor - I believe I painted my toe nails whilst waiting and then..boom he arrives says hello to everyone on the room and then spots our little clan.
"Oh my god, it's my London girls" - words to that effect. This moment made flying all the way and all the money worth it, to know that he remembers us is a nice hell who am I kidding a awesome feeling! So we all have a hi how are ya convo , he mentions that one was from Ireland, to which I correct him no Scotland, and he goes on his rant about how we speak from the front/back of our throats - he has done this the past 2 times I met him..its still cute, plus he does a great Scottish accent! - Pretty much everyone else in the room was watching us..you know what?..keep watching, this is a moment you get when you support this guy through thick and thin, we earned this moment!

Before you know it photos are being taken, I cant remember If I was first up from our group?..I think so..so I approach and get a hug and how are you yada yada, he then asks me if I am partying..which I reply yeah and he is like "well yeah you are Scottish" I must admit the way he looked me up and down when I approached was not missed on me, keep looking sunshine , you can have it if you want it! =) He asks if Ill be around for panels and stuff, I tell him I am here all weekend, and he says "My buddy Chris will be here tomorrow, you remember Chris from London?..yeah he will be here tomorrow too" This also delights me! So the rest of the girls get there photos done, and I have to say he gave us all our moment!
Im just gonna jump right in to it.
First thing was Michael's photo op, whicjh was at 1220 on the Friday, an awesome way to officially start the con.
So myself
tasabian
fruitbat00 and
complicat made our way down to where Michaels photo ops were being done..I cannot describe how much of a task it is to weave your way through these huge hotels..it is an effort and a half I tell ya1
So the room wasnt that busy say 50 people, which I find shocking and nice at the same time, less people means more time. We were all sitting on the floor - I believe I painted my toe nails whilst waiting and then..boom he arrives says hello to everyone on the room and then spots our little clan.
"Oh my god, it's my London girls" - words to that effect. This moment made flying all the way and all the money worth it, to know that he remembers us is a nice hell who am I kidding a awesome feeling! So we all have a hi how are ya convo , he mentions that one was from Ireland, to which I correct him no Scotland, and he goes on his rant about how we speak from the fron/back of our throats - he has done this the past 2 times I met him..its still cute, plus he does a great Scottish accent! - Pretty much everyone else in the room was watching us..you know what?..keep watching, this is a moment you get when you support this guy through thick and thin, we earned this moment!

Before you know it photos are being taken, I cant remember If I was first up from our group?..I think so..so I approach and get a hug and how are you yada yada, he then asks me if I am partying..which I reply yeah and he is like "well yeah you are Scottish" I must admit the way he looked me up and down when I approached was not missed on me, keep looking sunshine , you can have it if you want it! =) He asks if Ill be around for panels and stuff, I tell him I am here all weekend, and he says "My buddy Chris will be here tomorrow, you remember Chris from London?..yeah he will be here tomorrow too" This also delights me! So the rest of the girls get there photos done, and I have to say he gave us all our moment!


So with the initial OMG moment over we decide to head to the Supernatural panel, which was beginning at 230pm..we still had to que but we managed to get a really good seat. Dragon*Con knows how to que, we are talking all the way out of the building, down the street, and around for about another 2-3 blocks..amazing!
Supernatural panel = MISHA COLLINS
Pretty much, the man is soo captivating, I can't actuallt express how much this man has me in the palm of his hand..its disgusting! To people who have never watched an interview or panel with him before proabaly think he is a douhe, but you have to be able to understand his sense of humour before you can accept it..he is a sarcastic mofu1 I do have videos of the panels, some are alright but im sure there are better ones.
The panel consisted of Misha, Julie, Samantha, Chris and Mark, Jim was still in transit, he wouldnt arrive until Saturday night due to working. It was rumoured that Misha wasnt attending, so I think some people stayed away..hahahhaa suckers he did show up, and you missed it all! =)
It was awesome to see them all on stage, not all of them worked together but they all seemed to get along great!
To be honest I dont remeber what we did inbetween this and heading for our Misha photo op...possibly picked up our Michael photo..maybe some food..its all hazy!

So Misha's photo op were in the Hilton..which is opposite the Marriot where the panel and Michael's photos were..confusing as hell!
There wasnt a large line for Misha..but it was nice and relaxed, I have to say that for a con this big I was pleasantly surprised by the laid back-ness of it all!
I have met Misha before, but this doesnt stop me from being a giddy little mess..most people went up and did a run of the mill hug or side by side..good for you, but Im a little more daring than that. I know Misha is pretty much up for anything..so here goes...I drew a blank when I got up to him and asked him, "What would you like to do, something crazy?" He replied, playfully I may add " You've had all that time to think of something..." The photographer who was awesome, butts in and says "get your arm around him" Misha has me in a head lock-esque pose before he has finshed saying the words..and how do I reply?.."What about a leg too"..I was casually half joking..before I kew it he had lifted my left leg..my BARE leg and was all in my face...I have no idea how it all happend like that..well at the time..now I can see..MISHA!! I looked at him after it and was like "Oh my god, what the hell"..he jsut laughed and was very nonchalant about it..smiling at me as ever!
Not gona lie I was scared incase I had disgraced myself, as I was wearing a dress..last thing I wanted was my ass out there...but no I didnt..and I fucking love it!!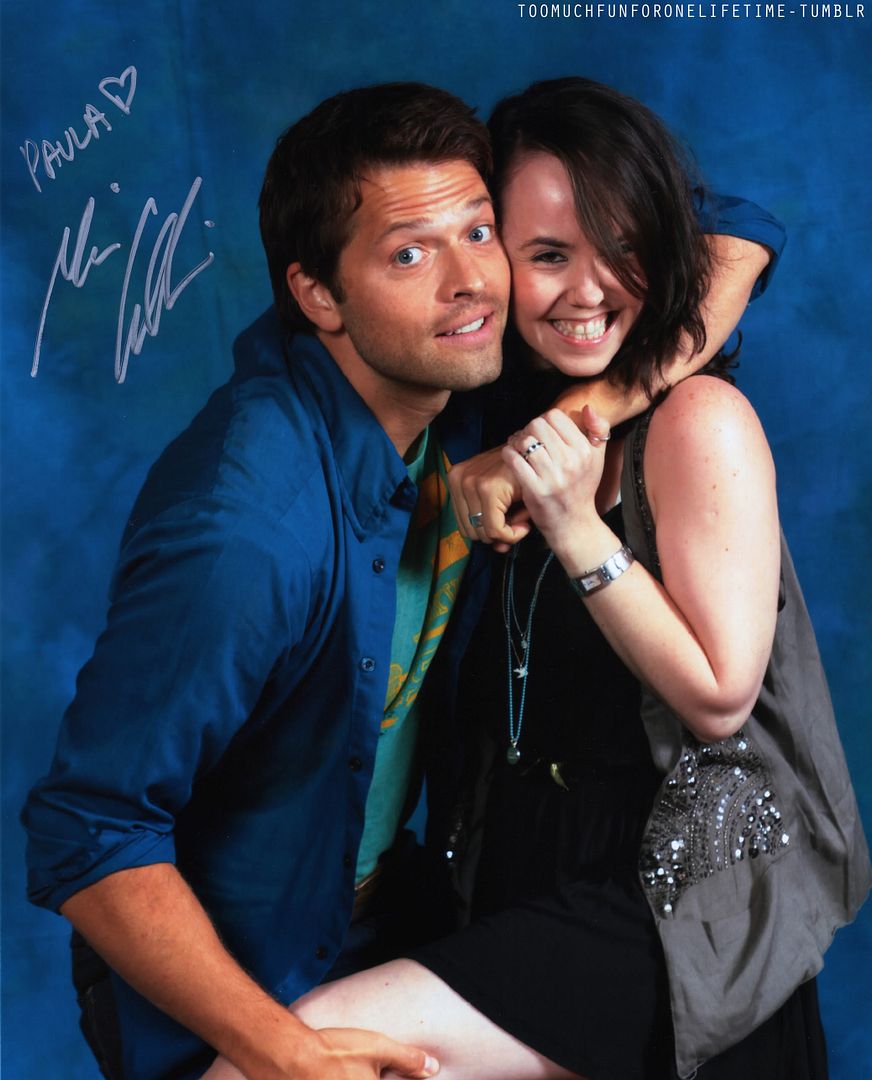 The good thing about this company doing these photos wa sthat they were printing them straight away, so we really only had to wait 10mins to get them. <3

Friday - day one was a complete success! I was pretty pooped out after it all, and had my usual con- headache..so I called it a night whilst the ladies stayed out for a while....this was only day one..more to come!!